The Siberian Husky Health Foundation is a non-profit charitable organization dedicated to promoting the welfare of the Siberian Husky breed in the areas of health and genetics, education and rescue.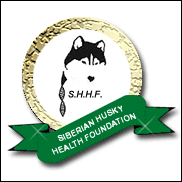 Jo Helms-author of "Grizz's Story A Greater Courage"
Copyright October 2003-2005. ALL RIGHTS RESERVED. No portion of this web site other than the order form may be reproduced or downloaded under any circumstances without the written permission of the author listed above.
We have added a new feature where you can add your link to our site. Please click on "add my link" to become part of Grizz's Good Neighbor Link Sharing page. We welcome with open paws any and all sites that are dedicated to furry friends. If you have ANY questions, please contact me at cheesedawg@earthlink.net
Click to view more favorite links
*****************
Petoholic, an online pet lover's community!
Be sure to stop in and get to know them.